For the past few weeks, Venus has been chilling in Virgo. To recap: You've been way pickier than usual, making dating apps feel particularly abysmal and relationships very naggy lately. Well, whether you're single, recently boo'd up, or have been with the LOYL forever, Venus entering Libra on September 14 promises to glow up your love life BIG TIME. Bonus: Mercury is entering Libra on the same day, too, doubling up the fun, romantic. airy vibes.
Venus is the planet of love, pleasure, and beauty, and Libra is literally the sign of relationships, so it makes a lot of sense that this energy would be the absolute best for your social life. Venus in Libra makes you the biggest people-person ever–you're basically guaranteed to have some sort of fun plans with your friends p much every day, and even if you're stuck at work (since it is still Virgo season, after all), you're still texting and Insta-DMing your squad as much as possible. In the realm of romance, your love life is majorly heating up right now. You just love to love right now, to the point where your poetic hopeless romanticism can get a little cheesy—but in the cutest way possible, of course! This is the perfect time to start dating, turn your crush into your boo, or make your current partner fall even deeper in love with you.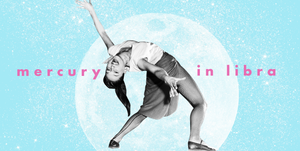 That's not all, though! Venus isn't just in charge of love and sex, it's also the planet of beauty, so this is the perfect time to go to the spa, give your Instagram the makeover it deserves , splurge on all the makeup you can afford, and fill up your wardrobe with some fly new fall outfits. Venus in Virgo was pretty conservative and didn't really do you any favors in the glam department, so now's the perfect time to be a lil extra if that's what you want! This is also an excellent time to redecorate your home–ball out to your heart's content, even if it means getting a hot dog couch.
You could get overwhelmed with how many MF'ing options are being presented to you.
Just one tiny thing to keep in mind—Libra is indecisive AF, and right now you are, too! You're meeting tons of new people that could be great future besties or lovers, but you could get overwhelmed with how many MF'ing options are being presented to you! Even if you feel like there are less hotties than you'd hope sliding into your DMs right now, the ones that do hit you up can still make you feel unsure. "Are they really all that?" "Do I really like them, or just the attention they're giving me?" "What if someone better comes along?" These are all the types of questions you're left asking yourself, thanks to Venus in Libra's hesitant nature. Listen, there's no need to rush into something now, so try and have fun with all of the options coming your way!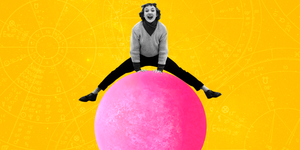 Venus in Libra is a major relief from this intense Virgo season we're all currently trying to survive. Now you're filling up your schedule with dates, turning acquaintances into besties real quick, and even potentially patching things up with some frenemies as the vibe of Venus in Libra is all about learning to compromise and cooperate with others. Peruse your options of potential new friends and lovers, date around, go to every party you're invited to, and most importantly, enjoy the light, carefree energy of Venus in Libra! This is part one of Libra season 2019 (aka cuffing season, socialite season, feeling like the most popular person around season), and it feels sooooo good!
Read below for your Venus in Libra horoscopes:
Aries:
Venus is straight chillin' in your chart's zone of relationships for the next few weeks—need I say more? If you need me to spell it out for you, here; your friendships and your love life are getting lit TF up for the next few weeks, and you can expect tons of fun and major (positive) changes soon. No further explanation necessary!
Taurus:
Your self-care game is STRONG with Venus in Libra! Your chart's zone of health, wellness, and routines is getting illuminated for the next few weeks, so go to the spa for a massage—you deserve it! This zone of your chart is also related to your work life, so you know that cutie you've been making heart-eyes at at the office? If it doesn't conflict with work policy and you've been thinking about it for a while, just take the leap and ask 'em out!
Gemini:
I have great news, Gemini—you're finally getting out of the house more with Venus in Libra, and your chart's sector of romance, sex, and fun is getting all the attention from the planet of love for the next few weeks! Whether you're looking for a string of flings or you're in the mood for ~true love~, you're meeting wonderful new people that come with hot hookups, hella romance, and just a good ass time in general!
Cancer:
Your chart's zone of home life and family are getting blessed by Venus' lovely vibes right now, Cancer, so redecorating your space and connecting with the fam/your roomies are guaranteed right now. Your love life is still getting treated pretty well, though, but more likely in the form of multiple Netflix and chill sessions and plenty of adult sleepovers. You're the zodiac's homebody though, so you don't mind!
Leo:
Of all the signs, yours is the one making the most new connections with Venus in Libra! Your chart's zone of communication is receiving lovely energy for the next few weeks, aka your Tinder is sending you non-stop notifications and your DMs are stuffed full of cuties trying to get some action! You've been busy AF at work this Virgo season, and Venus in Libra promises to keep you equally as busy—but instead of working overtime, you're going on dates, getting invited to all the parties, and expanding your social circle big time!
Virgo:
Venus has been living it up in your sign for the past few weeks, so the luckiest time of year for your love life has already come and gone, Virgo. Don't worry, because even though you're less likely to meet the LOYL with Venus in Libra, you're more than making up for it with the big paycheck coming your way! Venus rules love, pleasure, beauty, and money, and right now it's in your chart's zone of finances, so you're getting that bread and living a pretty lux life for the next few weeks!
Libra:
Your ruling planet is in your sign! This is the best time ever for a makeover, revamping your wardrobe, stocking up on all the beauty supplies you can afford, and enjoying plenty of attention from hotties. It's all eyes on you with how great you're looking and feeling with Venus in your sign, Libra! This only happens three weeks per year, so live it up while you can! PS: Happy almost birthday!
Scorpio:
Right now, Venus is in your chart's 12th house, which is the zone of isolation and your unconscious mind. There are troublesome patterns in your love life—like feeling afraid of intimacy, ghosting people, or self-sabotaging your relationships because you feel like others are too good for you. This transit is happening to help you break those cycles. Your self-esteem is being healed and you're transforming into a happier, healthier, more ready-to-love person as a result, so that when Venus is in your sign next month, you're fully prepared to make the most of it!
Sagittarius:
Your social life is bangin' right now, Sagittarius! Your chart's 11th house—the zone of friendships and networking—is Venus' home for the next few weeks, which means that you're making new friends left and right. You're not really the type to settle and lock down a committed relationship (you need a whole lotta space to breathe, and partners can make you feel stifled) so this transit is pretty perfect for you! Plus, there's always the potential that one of these new friends can come with benefits attached, if you catch my drift!
Capricorn:
Your chart's career zone is getting lit up by Venus in Libra! This means you're attracting more money your way, possibly getting a promotion, and all your coworkers are loving working with you even more! This transit is also indicative of potentially starting a romantic relationship with someone at work–just be careful if you do!
Aquarius:
As the most eccentric sign, you truly value the traits that make other people unique, too, and guess what? All the new people you meet promise to be just as outgoing and quirky as you are! You're finding folks from totally different walks of life and learning a ton about the world as a result. As far as romance goes, you can enjoy some short-term fun right now, but a LTR isn't really a guarantee for you with Venus in Libra, sorry!
Pisces:
Your chart's zone of intimacy and inheritances is being transited by Venus for the next few weeks, which means two very different things are beginning to happen. First, you're connecting way deeper with your partner, and your sex life is bumpin' right now. Second, you're likely to receive an unexpected bonus or a check in the mail that can really help fill out your bank account. Enjoy this amaze transit while it (and the money) lasts!
Source: Read Full Article