Ever since the beginning of time, celebrities around the world have been followed by paparazzi, gaining a fanbase through their achievements and notoriety through their scandals. From advertisements on social media, merchandise and sold out shows, celebrities can be paid as much as $355 million per year. A simple post on Instagram can add $1 million into Beyoncé's pocket!
RELATED: What 32 Of The Most Expensive Homes In The World Are Worth (And Who Owns Them)
In 2019, society has grown to overlook the fact that at the end of the day, our idols are normal people with families to come home to and loved ones to take care of. As you can imagine, these homes are not just regular houses with a white picket fence. Here are some of the most stunning (and expensive) celebrity homes in the world.
Click the button below to start this article in quick view
10

Kylie Jenner and Travis Scott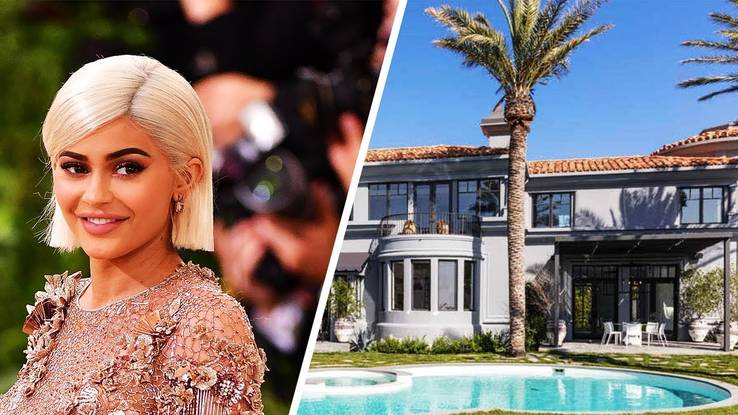 Even though she has already owned 5 homes since she was 17 years old, Kylie Jenner spared no expense when it was time to move in with her boyfriend, Travis Scott. Besides her cars, this latest investment comes in at $16 million.
RELATED: 25 Things Kylie Jenner Spends Her Millions On (That We'd Question Buying)
Filled with a Barbie Glam room, four closets, and a fitting room, Kylie's house fulfils any little girls dreams! Throughout their house, she highlights her Kylie Cosmetic brand by having lipstick-themed furniture scattered around the estate. As if that wasn't enough, a custom handbag room was built for her 500+ bags.
9

Katy Perry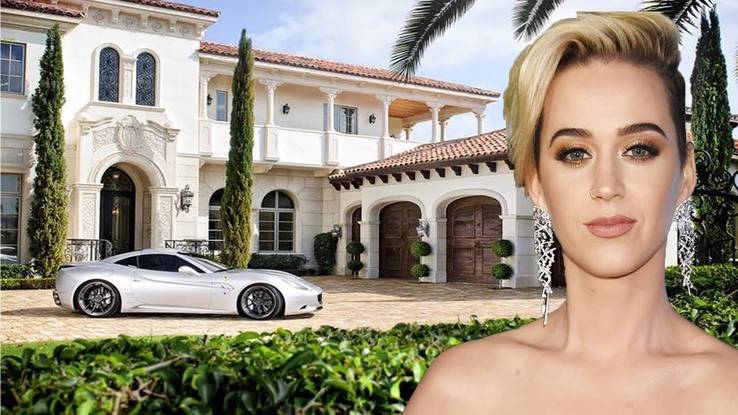 In Beverly Hills, an (almost) $18 million mansion was purchased by none other than Katy Perry. Since the lot was purchased in 2017, the home has been expanded to 5, 427 square feet including 5 bathrooms and 5 bedrooms. Some of her neighbors include Jennifer Lawrence, Adele, and Cameron Diaz.
It is said that her driveway can fit up to 20 cars! For reasons of privacy, the house is engulfed with trees and acres of greenery covering the front of the house. The backyard has an infinity pool accompanied by a terrace, where she can get her tan on.
8

P. Diddy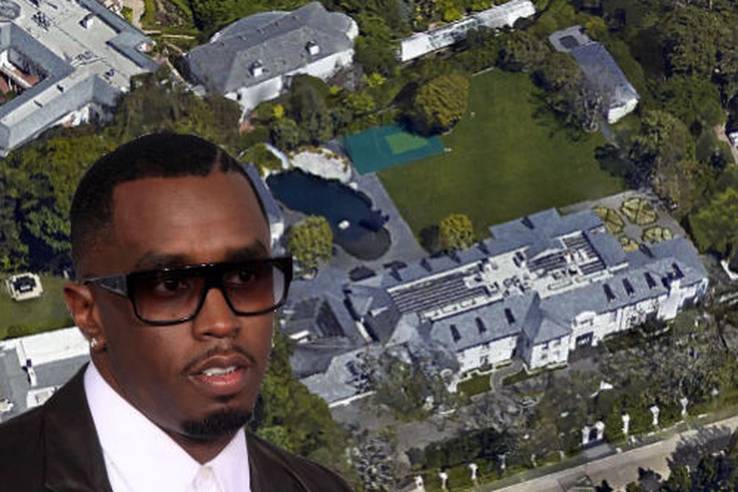 In 2014, P. Diddy bought a vast family home in Holmby Hills, CA. This 17,000 square foot mansion is equipped with a cinema seating 35, a wine cellar and a beauty/massage room. While writing a cheque for $39 million, P. Diddy also had an underwater tunnel constructed to connect the pool and grotto.
The house sits next to the famous Playboy Mansion and The Manor. As if one home wasn't enough, there is also a guest-house with a spa and steam room.
7

Jennifer Lopez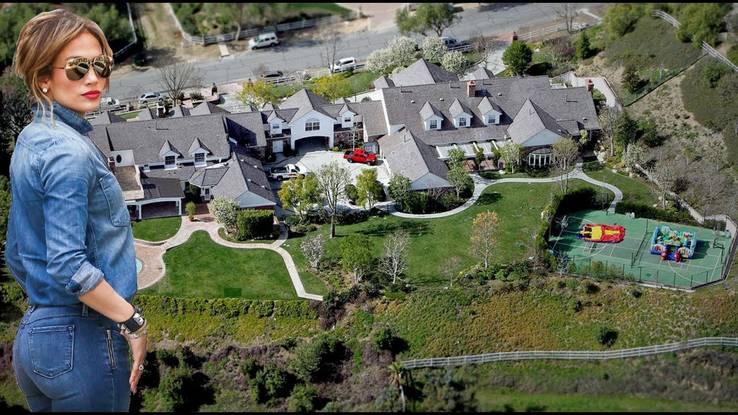 This 13,000 square-foot establishment was purchased in August 2016. Lopez bought a 13 bathroom, seven bedroom home for $28 million. Since then, the price of her estate has gone up to $40 million! Located in the depths of Bel-Air, Jennifer made sure her wonderful property could accommodate all her friends and family (including her two children), with a cinema room that can seat up to 30 people.
Other luxuries such as a massage room, a three-sided infinity pool, and a library are also included. After finishing her performances, she can wind down at her private beach straight in her backyard. The house was built in 1940.
6

Kim Kardashian West and Kanye West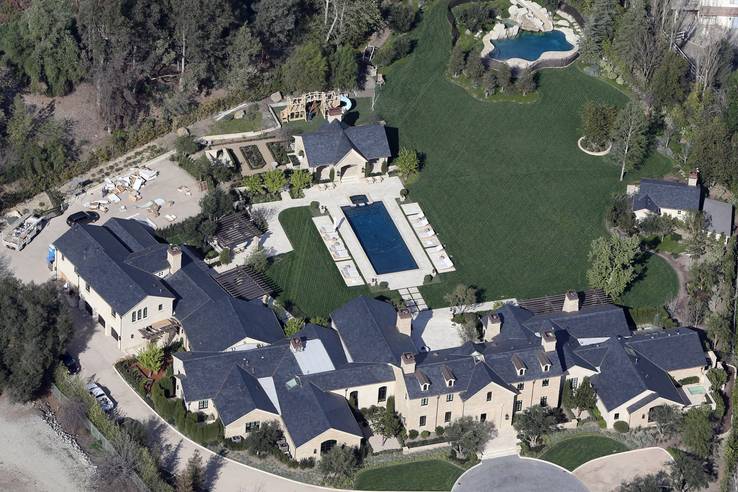 Having first purchased the home in 2014 for $20 million, the couple reconstructed 95% of the house in December 2017. The property is now worth $60 million!
RELATED: 10 Most Expensive Things Kanye West Owns
The house has grand open spaces, which complement the light color palette. The lot has two kitchens, a Yeezy shoe collection and a magnificent master bedroom. More recently, Kim and Kanye have become more open with showing their estate to the public through social media.
5

Beyoncé and Jay Z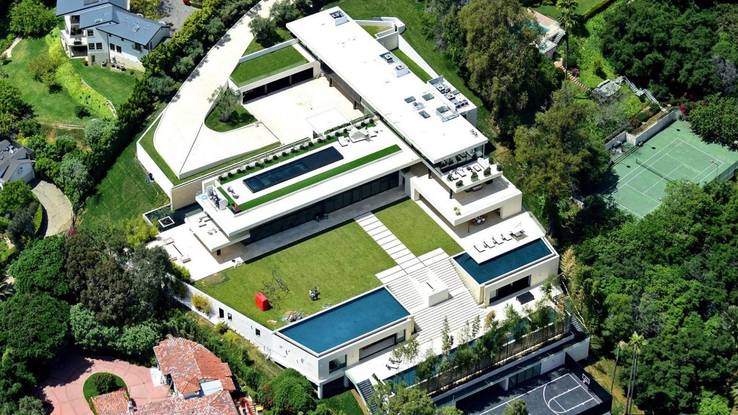 In Bel Air, California, the ever-so-famous couple Beyoncé and Jay Z can be found. In July 2017, the couple bought a 30,000 square foot property here, complete with 8 bedrooms, 11 bathrooms, 4 pools, a 15 car garage, and recording studio, to name just a few of its glamorous features.
Coming in at $88 million, the lot was designed by Paul McClean. It was previously owned by Tyrone McKillen, who purchased the house in 2015 at $15 million. The couple owns many properties around the world but this Bel Air estate has to be the most extravagant.
4

Oprah Winfrey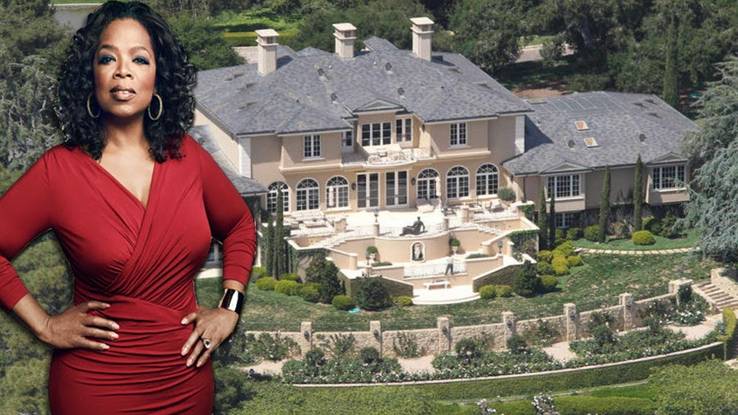 The most beloved and popular talk show host in the world, Oprah Winfrey, owns a $90 million estate in Montecito, also known as "The Promise Land". She first purchased the lot in 2001 for $50 million.
The 42-acre establishment has six bedrooms, 14 bathrooms, a wine cellar, a cinema room, a swimming pool, a grand gourmet kitchen, and a Koi pond. Her neo-Georgian style home holds amazing sculptures and outdoor facilities like a rose garden, guest house, a barn for her horses and a man-made fishing lake.
3

George Lucas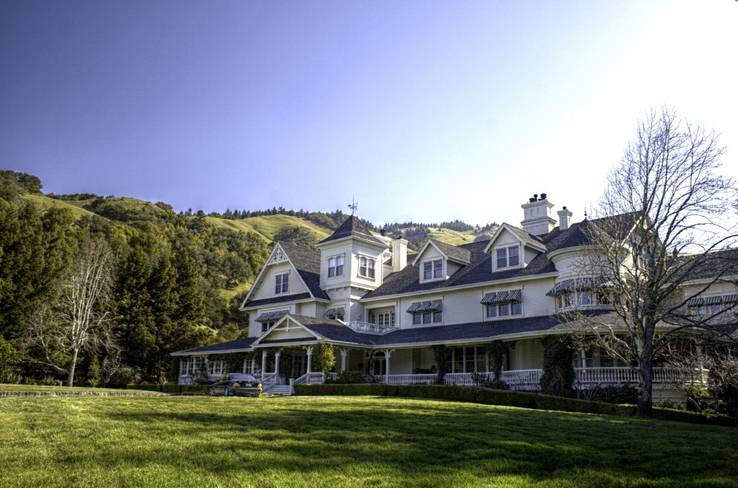 Widely known for his Star Wars success, in 1974 the director purchased the Skywalker Ranch for $100 million. Located in Marin County, CA, the home has luxurious amenities like a 300-seat theater, a 2 story library, an outdoor pool, a vineyard, and a barn.
To get to the mansion, a private road was built (which is not open to the public, of course).  The ranch was built to be a space for film-makers to produce ideas and hold meetings. Additionally, how's this for luxurious: the home has its very own fire station!
2

George Clooney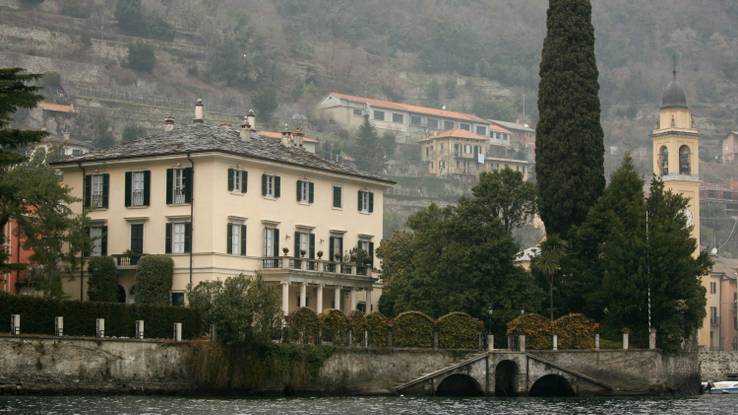 Clooney is living the lifestyle of the rich and famous with his $100 million land in Villa Oleandra, Laglio, Italy. With his growing family and fast-paced life, Clooney likes to spend his days in Italy with his pizza room, fully-equipped gym, his pool, tennis courts, a garage dedicated just to his motorcycles, and an outdoor theatre where he can enjoy a beautiful view of the ocean.
RELATED: George Clooney Showers His Friends With Money
The 25-room estate was built in the 18th century and was first purchased in 2001 for $13.5 million. In 2015, paparazzi and fans began to discover his estate and the mayor of Laglio had to issue an order to prevent them from approaching the property.
1

Bill Gates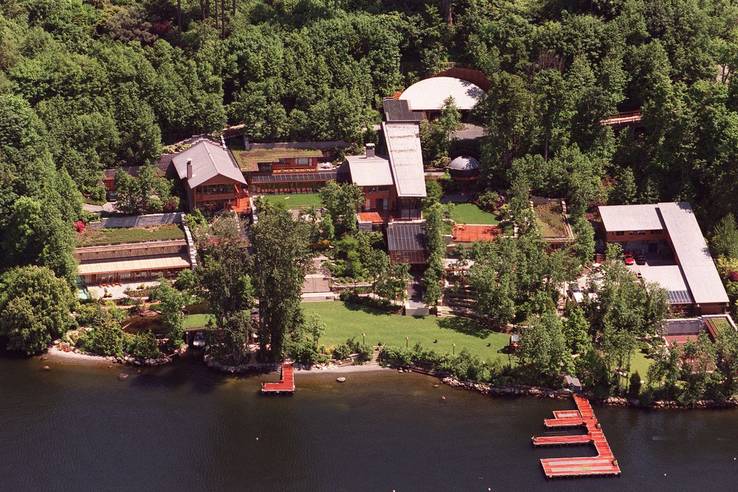 One of the world's richest men, naturally, owns a stunning home befitting his status.  He bought a lot in 1988 for $2 million, proceeding to spend $63 million on construction to build the house. The resulting 66,000 square foot mansion is now worth $127 million!
Located in Medina, WA, it holds 7 bedrooms, 24 bathrooms, 6 kitchens, an exercise room, an indoor/outdoor pool, a theatre, a man-made pond with salmon and trout, a recently added trampoline room and much more. The mansion is surrounded by high security and all guests are given a microchip so their location can be tracked and they won't get lost in the vast property.
NEXT: How Bill Gates Made Millions & Built An Empire
Tags:Richest Celebrities,Celebrities
Source: Read Full Article