The Rock isn't one to be quiet in the weight room, but that's okay—the actor's new Project Rock earphones are built for noise. If you somehow happened to be working out while wearing a set of the true wireless buds in the Iron Paradise with Dwayne Johnson himself, the sound of all of his grunts and clanging weights wouldn't even register, unless you wanted to hear them. These headphones mean business–and that business is providing some of the best sound and performance of any earbud in the gym.
The Under Armour Project Rock True Wireless In-Ear Headphones, out today, give listeners a more streamlined, freeing experience than the collection's previous audio option, a set of rugged on-ear cans that provided serious sound. The earbuds, a Rocked-out version of Under Armour and JBL's Men's Health Fitness Award-winning Flash model, are small, but powerful.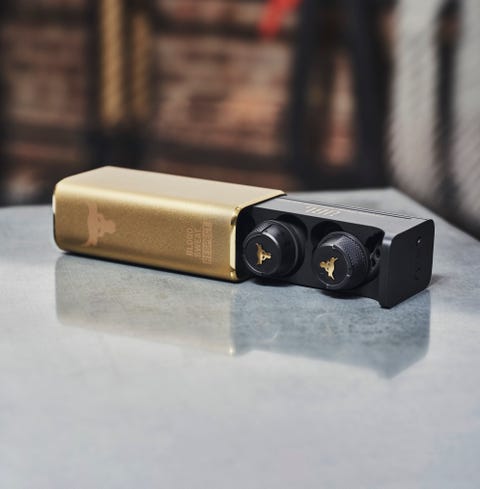 Under Armour
BUY IT HERE
Like the Flash iteration of the buds, the Project Rock version boasts some serious performance specs. They're IPX7 rated so they stand up to sweat, and a wingtip design keep them securely in your ears. Under Armour claims you'll get 5 hours of playtime per power-up, along with an extra 20 hours of juice available in the sleek charging case case. While we haven't had a chance to give the Project Rock version a full test, the Flash buds performed as promised. The case of the new release is blinged out in gold, embossed with The Rock's Brahma Bull logo and 'Blood. Sweat. Respect.' credo, and equipped with a carabiner for easy transport. Another smaller carrying case is also included in the package, sans power connection.
The sound of the buds is much more full and all-encompassing than some other true wireless headphones, since the in-ear design blocks out more of the outside world. Don't worry about missing out on what your workout partner is saying between reps, though—the headphones "Bionic Hearing" features allow you to stay aware of your surroundings and talk without needing to take them out of your ears.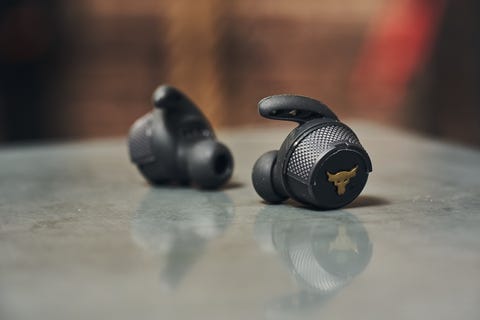 Under Armour
The headphones don't run cheap, at $199, but they measure up to the UA Flash in our brief testing. That would be enough to make us confident to say they'll be some of the best currently available on the market—and if you don't trust us, there's a big, bald, tattooed pitchman that will probably be happy to sing their praises today when they officially drop.
Source: Read Full Article