The 'Sweetest Pie' raptress warns the social media trolls against making fun of her shooting incident involving Tory Lanez after they mess up with jokes about her deceased parents.
AceShowbiz –Megan Thee Stallion doesn't want anyone messing with her late parents. Taking to social media, the "Savage" hitmaker slammed Nicki Minaj's fans who joked about her deceased mom and dad.
Turning to her Twitter page on Tuesday, August 30, Megan quote-retweeted a Barbz's fan, @onikaswrldd, who tweeted, "Your mom is being ate by them," seemingly responding to the Houston hip-hop star's previous tweet, "Feed da roaches." Slamming the anonymous user, the raptress simply said, "Okay ?"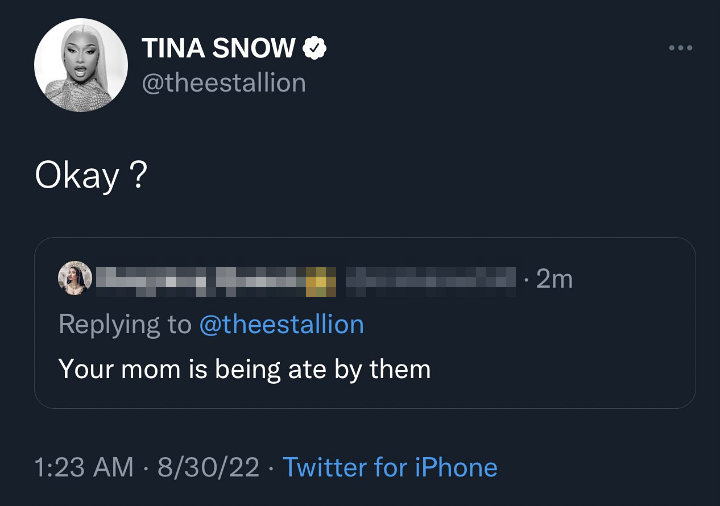 Megan Thee Stallion responded to a Nicki Minaj fan who joked about her late mom.
In a following tweet, Megan shared how she feels when people make fun of her late parents. "My parents are dead jokes are so tired." Her fans, Hotties, were quick to rally behind her, with one replying, "Shouldn't even be a thing!! no one should be talking about passed loved one!" A second added, "It's such nasty low place to speak from. The fact that people think like that is very nasty. Sorry Meg…"
Another Megan fan pointed out, "I wish Nicki Minaj would tell her fans to stop mentioning Megan's dead parents." The said person continued, "They are literally the only ones to bring up Megan Thee Stallion's dead parents."
"nah barbz need to be cancelled fr, i f**k with nicki as an artist but the fact that she never gets her fans in check is kinda sick and i believe all bad rumors abt her for the simple fact she never checks them," someone else fumed. "why are they making jokes abt @theestallion parents being dead CRAZY!"
Later, Megan pointed out that joking about her shooting incident involving fellow rapper Tory Lanez isn't funny as well. "Shooting jokes are tiredddd," the "Sweetest Pie" raptress penned. In a separate post, she thanked her fans for keeping supporting her with a simple goodnight message. "Gn love you hotties," she tweeted.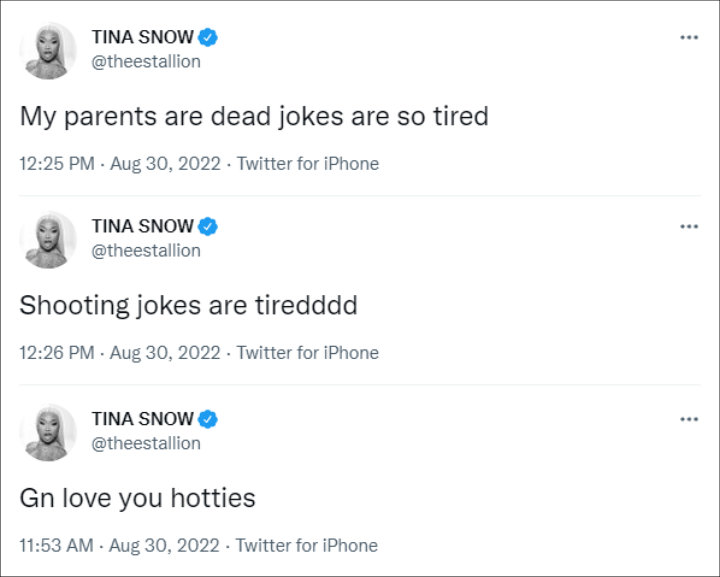 Megan Thee Stallion warned against joking about her parents and shooting incident involving Tory Lanez.
Despite Megan and Nicki's feud, they previously collaborated in the past. They collaborated in "Hot Girl Summer" and teamed up with Doja Cat for "Cash S**t". Amid their ongoing beef, Megan was caught unfollowing Nicki on Instagram, but she still follows Doja. A few days later, Nicki unfollowed Megan.
Their fans later spotted so-called disses in their new tracks. In her song "Seeing Green", released in May 2021, many were convinced that Nicki had indirectly taken a dig at Megan as she raps, "One Margarita pizza with Parmesan and garlic. These b***hes thirsty, I can see why they alcoholics."
Then, in June 2021, Meg released her single "Thot S**t", in which she appeared to take aim at Nicki. "I'm the big homie, but I ain't the oldest," she spits in the track. "B***h dry hatin', tryna get noticed. Man, ain't nobody come to see you, Otis, look."
Source: Read Full Article