Mirror, mirror, on the wall — who's the richest of them all?
Oh, never mind, Forbes already did the math. Thanks anyway, Magic Mirror, you can just… quietly reflect for a bit.
Yes, the money magazine dropped its list of the richest female musicians in 2019, and a surprise dark horse has debuted on the list — and already at the top spot!
According to the outlet, Rihanna has a net worth of approximately $600 MILLION!
Whoa! That's a lot of green! Even for Rihanna!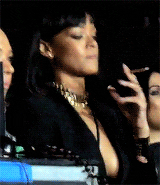 Wait, when's the last time she even released new music?? Anti???
Yep. It wasn't 2016's Work but actual work that made RiRi her hundreds of millions.
Specifically the work she put into Fenty Beauty.
After becoming a fashion icon with her personal choices, she threw that weight behind her eponymous beauty brand (yes, it's named after her — she was born Robyn Rihanna Fenty).
Fenty Beauty, co-owned by LVMH and placed front and center in their Sephora stores, launched in late 2017 and was an even bigger success than any of Rihanna's myriad pop hits.
The cosmetics company reportedly made $100 million in sales in just a few weeks of existence — and has only grown since then. In 2018, Fenty Beauty is estimated to have generated a whopping $570 MILLION in revenue!
What's the secret?
By diversifying the product — including foundation in 40 different shades — she went after a much wider demographic than many other makeup companies.
Stephanie Wissink, a research analyst at Jefferies, told Forbes:
"It challenged the standard convention that you only needed a very defined set of shades to satisfy a market. Not only did achieve meaningful sales, but it potentially changed the industry permanently."
Sounds like some smart business decisions! Bitch Better Have My Money indeed!
Video: Jeffree Star And Shane Dawson Release BRUTAL Review Of Kylie Jenner's Skincare
Add in Rihanna's successful lingerie line, her recently announced new fashion brand, and of course continued royalties from her hit songs and payment for live gigs, and there you have it.
1. Rihanna – $600 million.
So who else rounds out the top five richest female musicians?
According to Forbes' numbers, here are the others, who made way for RiRi:
2. Madonna – $570 million
3. Celine Dion – $450 million
4. Beyoncé – $400 million
5. Taylor Swift – $360 million
With Fenty Beauty in play, will any pop star ever be able to surpass RiRi??
Maybe if Beyoncé launches a competing beauty brand…
Source: Read Full Article