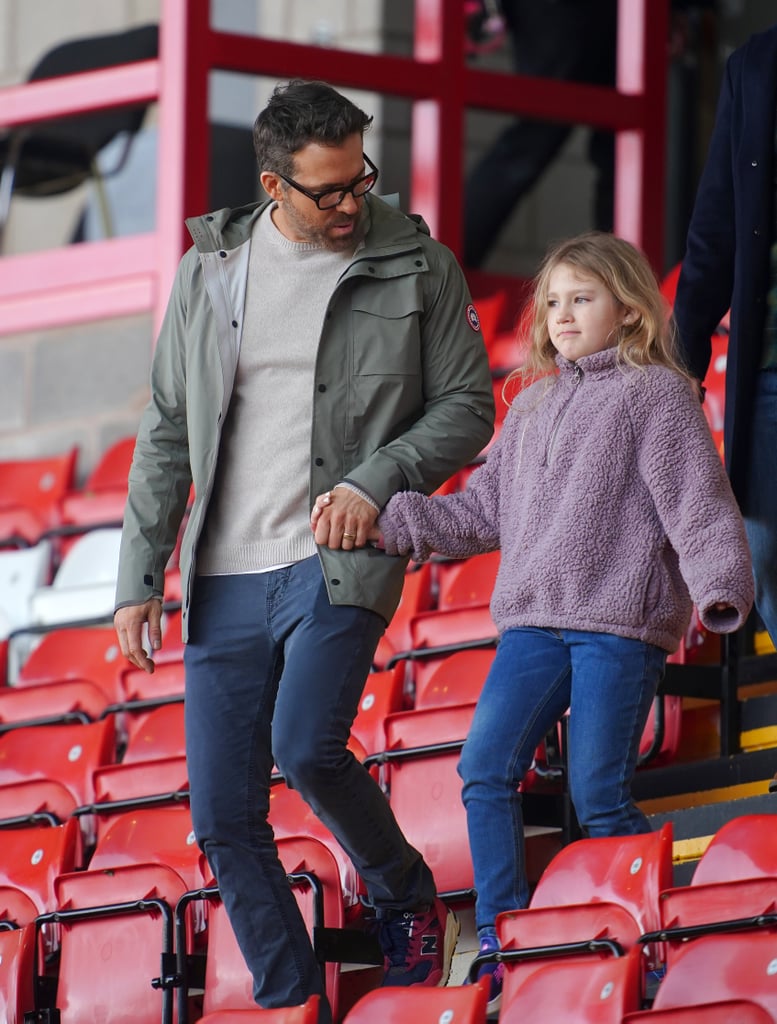 Ryan Reynolds Cheers On His Soccer Team With 8-Year-Old Daughter James

Ryan Reynolds is enjoying quality time with his eldest child before becoming a father of four. The actor traveled to Wales with 8-year-old daughter James to cheer on Wrexham AFC, the soccer team he co-owns with Rob McElhenney, as they played Sheffield United on Jan. 29. The father-daughter pair toured the stadium hand in hand upon arrival and watched the game from the stands with director Shawn Levy, a longtime friend who has worked with Reynolds on "Free Guy" and "The Adam Project" and will direct him again in the upcoming "Deadpool 3." James looked so grown-up in a fuzzy purple jacket and matching sneakers, while Reynolds wore a beige sweater and a green jacket.
The match ended in a 3-3 tie and was quite a roller coaster, as evidenced by the wide range of facial expressions Reynolds exhibited throughout. Blake Lively watched the action from home and couldn't resist poking fun at her husband's reactions, as she's known to do. "I bought espn+ today. Just to watch my husband experience crippling anxiety live. Worth it," she wrote on Instagram Stories alongside a GIF of him looking rather distressed. She added, "If you're not watching this insane @wrexham_afc game right now you're missing out on these vibes. They're playing a team 3 leagues higher. And currently winning. Life makes no sense."
The game was a rare public appearance for James, who was first photographed at her dad's Hollywood Walk of Fames star ceremony right before her second birthday in 2016. Reynolds and Lively also share two other daughters — Inez, 6, and Betty, 3 — and have a fourth child expected to arrive in the next few months.
Last year, Reynolds joked about their lack of preparation for a new baby during a "Kelly Clarkson Show" appearance. "The first one you get, you know, everything's like perfect, and you just set up everything and everything's sterilized. By the fourth, you're just like, 'Oh, right, this is happening. This is happening. I should sweep or something,'" he said. In an interview with "Entertainment Tonight," he expressed his enthusiasm about being a father of four soon. "You know, you'd have to be a moron to do this four times if you didn't like it," he said. "It's gonna be nuts, but we're very excited."
Read ahead to see all the sweet photos of Reynolds and James bonding at the Wrexham game before James's newest sibling is born.
Source: Read Full Article