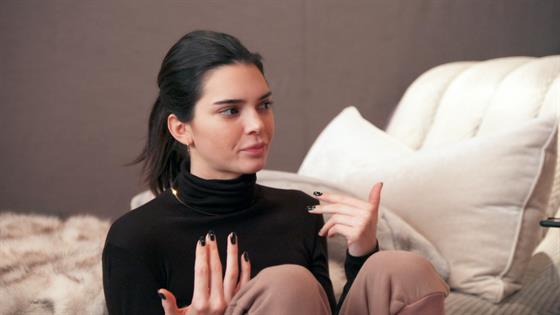 What's going on with Kourtney Kardashian and Kendall Jenner?
In this clip from Sunday's all-new Keeping Up With the Kardashians, the supermodel reveals to Khloe Kardashian that she's frustrated with the oldest Kardashian. According to the 23-year-old Jenner, Kardashian picked on her while in Mammoth for a group trip.
"This past weekend, Kourtney came with me and my friends on a ski trip," Kendall explains in a confessional. "You know, Kourtney and I have been getting a bit closer over the past couple years and I love that she hangs out with me and my friends. But, to be honest, I felt like there were just some moments where she was a bit rude and it really started to get to me at a certain point."
While discussing the situation with the Good American boss, Kendall hypothesizes that Kourtney was just trying to impress her pals…without considering the model's feelings.
"I just felt like she was trying to be cool in front of my friends and younger people that are cool—at my expense," Kendall continues.
Case in point: Kourt put her "muddy" shoes all over Kendall's car after the latter asked her not to. Also, the mother of three allegedly told Kendall to "chill the f–k out" when she was stressing about losing her car keys while skiing.
To make matters worse, Kendall's friends all laughed with Kourtney and didn't take the model's side. Although Kendall feels that Kourtney put her down to "feel higher or cooler," she has yet to address the drama with Scott Disick's ex.
"I'm so annoyed with Kourtney," Khloe reflects after hearing about the drama. "She is supposed to be the older sister, but it just seems like Kourtney was bullying Kendall the entire time."
Will Kendall and Kourtney make amends? For that answer, catch Sunday's episode of Keeping Up With the Kardashians.
Watch a brand new episode of Keeping Up With the Kardashians Sunday at 9 p.m., only on E!
Source: Read Full Article