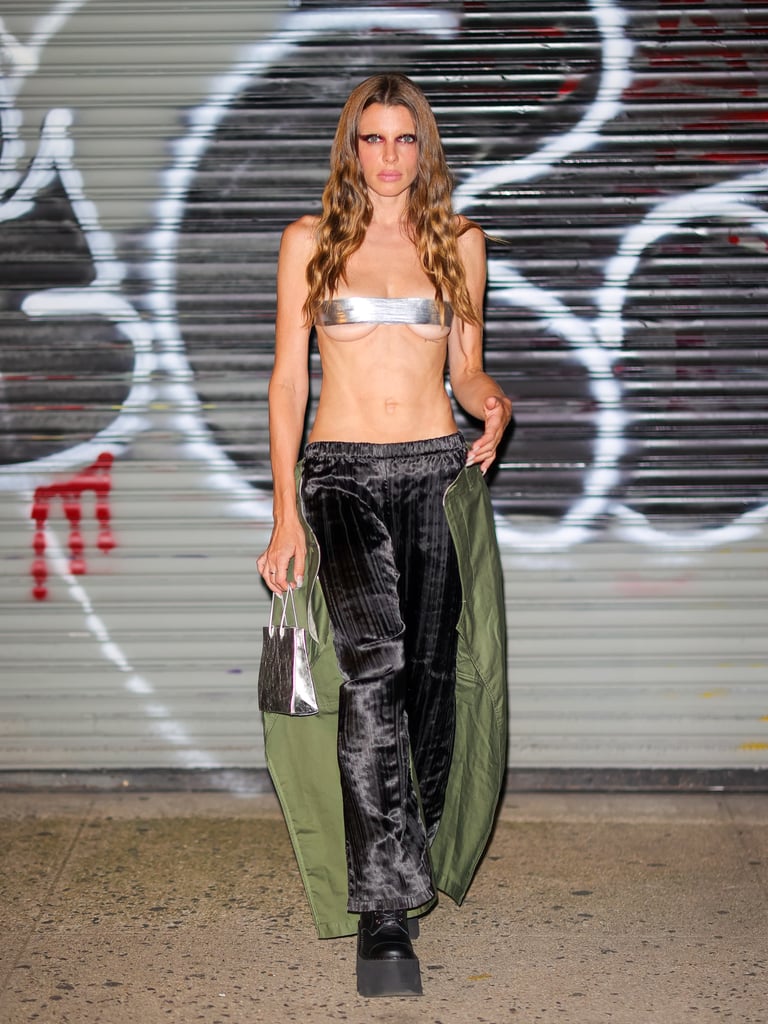 Julia Fox Wears Duct Tape as a Bra at NYFW

Another day, another DIY Julia Fox fashion moment. During New York Fashion Week, the 32-year-old actress stepped out in black track pants and a single strip of silver duct tape across her chest. Another key detail of this look? Affixed onto the back of Fox's silky, wide-leg track pants was, in fact, a second pair of army-green pants. In effect, she doubled up on the bottoms but left the top portion of her outfit mostly bare, choosing a metallic strip of material to complete the unconventional look. Footwear-wise, she chose chunky black leather platform boots pulled straight from the '90s and carried a metallic minitote that resembled a shopping bag.
Though Fox frequently wears head-turning ensembles, Fashion Week often brings out the most daring of everyone's wardrobe. Celebs, influencers, and other industry tastemakers get creative during this time and experiment with their daily looks, knowing that a street style photographer can snap their picture at any moment. Back on the runway the next day, Fox walked in Tommy Hilfiger's NYC show sporting a striped bodysuit and sheer tights. She was then spotted out in yet another street style snap wearing a black underwire bandeau bra and a micro miniskirt.
Fox's latest duct tape style is reminiscent of the caution-tape look from Balenciaga that has been worn by both Kim Kardashian and Lizzo. Some of Fox's most daring ensembles to date include a DIY denim ensemble and a latex minidress that was held together by metal hooks. Ahead, see more of her Fashion Week duct-tape outfit from every angle.
Source: Read Full Article