What do you get when you gather a bunch of impossibly beautiful people in a fictional hotel, then add in plenty of glamour, betrayal, sex, and breathtaking Miami scenery?
You get ABC's highly-anticipated new series Grand Hotel, premiering Monday June 17th at 10|9c on ABC, executive produced by Eva Longoria.
What do you get when you invite the impossibly beautiful cast to hang with stars of Bachelor Nation at an iconic IRL hotel in Miami Beach?
You get ABC and Elite Daily's fabulous Grand Hotel premiere, in partnership with YouTube TV. On June 10, the cast and creators of Grand Hotel, including Longoria, Roselyn Sanchez, and Lincoln Younes, mixed and mingled at the Fontainebleau in Miami beach — where the series' pilot was filmed — with the likes of Bachelor Nation alums Kaitlyn Bristowe and Jason Tartick, Ashley Hebert and JP Rosenbaum, Becca Kufrin and Garrett Yrigoyen, Kendall Long, and current Bachelorette Hannah Brown.
Following an exclusive screening of the pilot, the producers and stars of Grand Hotel took to the stage at The Fontainebleau to take part in a panel moderated by Bustle contributing editor and creator of the Latina To Latina podcast Alicia Menendez. There were laughs, insights, and afterwards, a musical performance by Miami singer-songwriter Jencarlos Canela, who plays El Rey on the series, that brought the house down.
Elite Daily was on the ground in Miami Beach for all of it, and here's what we learned about your summer "guilty" pleasure, which we feel exactly ZERO guilt about loving. Grand Hotel premieres Monday June 17th at 10|9c on ABC after The Bachelorette, or stream it live on ABC with YouTube TV.
1. Grand Hotel Was Tailor-Made To Be Your Summer Obsession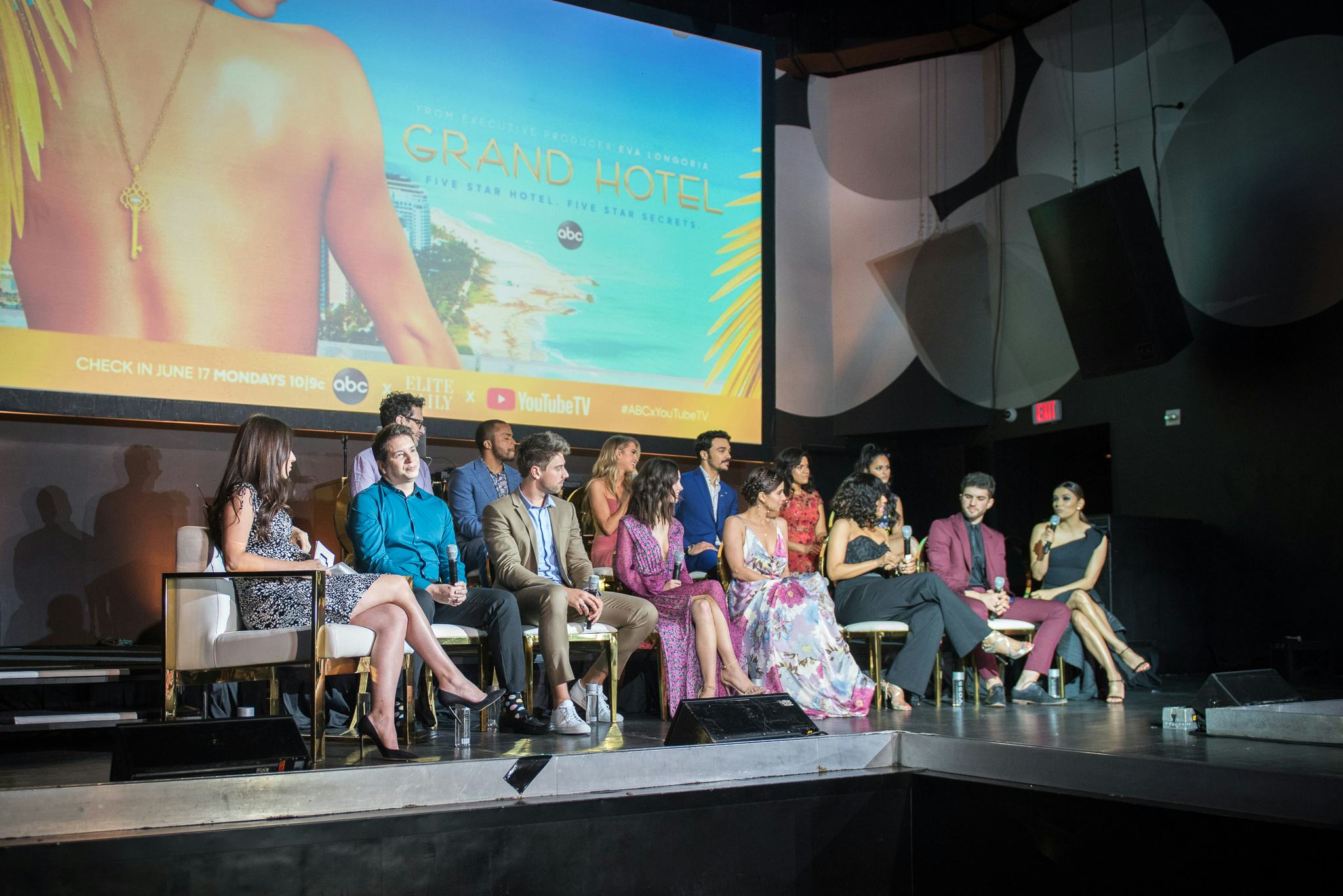 Grand Hotel is an addictive watch, and that's not an accident. The writing, casting, cinematography, and wardrobe were all meticulously planned to hit all your pleasure centers. "Every frame is an Instagram photo," said Longoria, explaining that the overall feel of the series was literally: "Live a little, you're on vacation!"
In the understatement of the evening, executive producer and showrunner Brian Tanen said, "As you can see, this cast is decently attractive. Every single one of them came in and they were so incredibly talented and beautiful that once we assembled the final cast, we said, 'This is going to be the most beautiful show on television.'"
Roselyn Sanchez perfectly summed up the show's appeal: "If you just want to have a laugh and have an hour of pure entertainment where the next day you're going to call your girlfriends and be like, 'Oh my God!' — that's what we're aiming for." Then she switched into a jokey newscaster voice to say, "This is the solution to all your summer problems."
She was joking, but where's the lie though?
2. The Cast Was Just As Shook By All The Twists and Turns As The Audience Will Be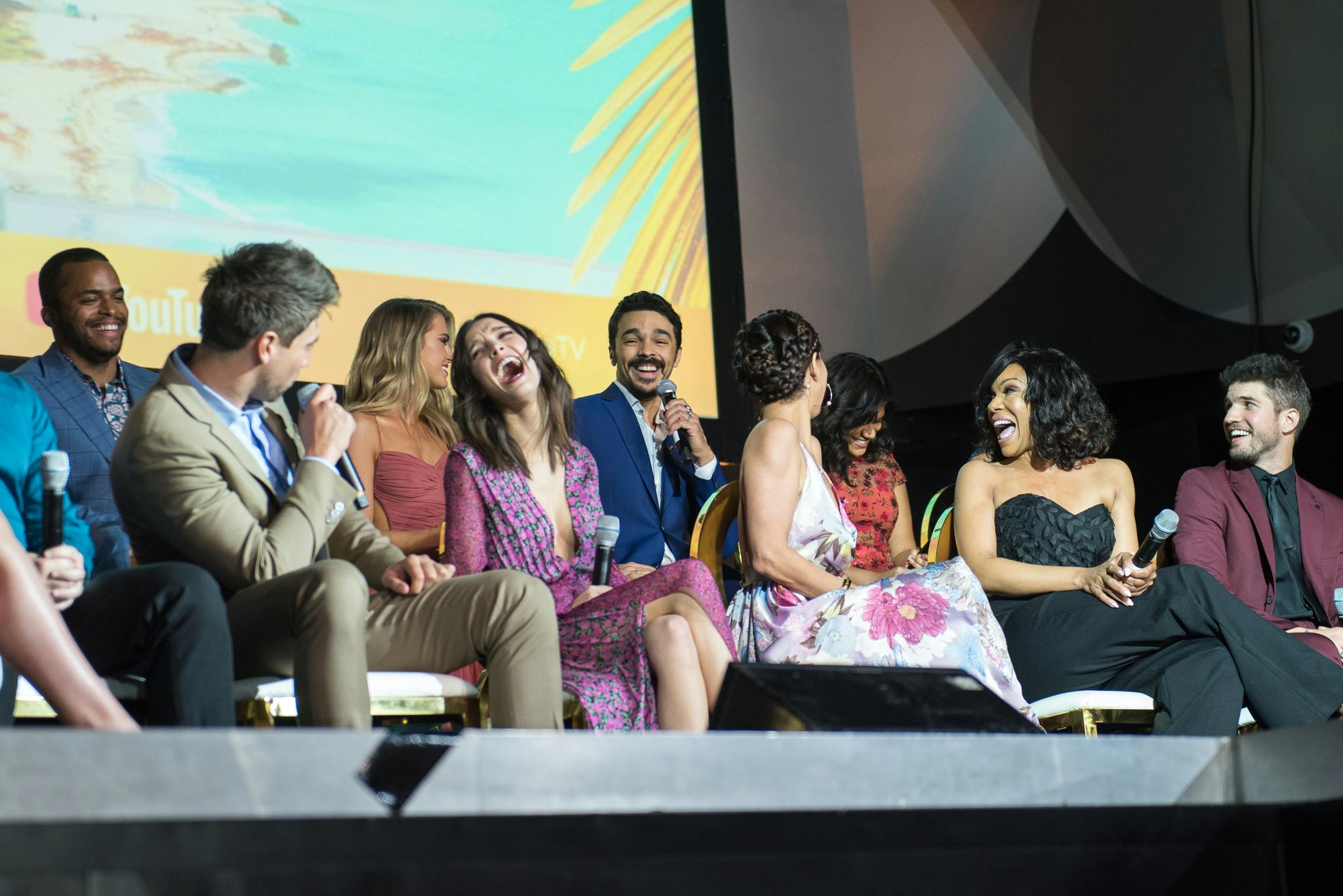 The 13 episodes of Grand Hotel are so jam-packed with cliffhangers and OMG moments that it's hard to say all that much more about the plot without spoiling. Even the cast was shook by where the series goes. "The table reads were amazing," recalled Wendy Raquel Robinson, who plays Mrs. P., the tough head honcho of the hotel staff. "I'd be like, 'This is happening! Oh my God!'"
Lincoln Younes added, "Wendy didn't really read the scripts until the table reads, so when something happened, she'd be like, 'WHAT???!!!' I really hope the audience gets the same reaction — it was a totally authentic reaction."
Tanen called Robinson out: "To be clear, you had the scripts [beforehand]," to which Robinson replied, "I wanted the element of surprise!"
You can't blame her for that!
3. Everyone Will Stan The Romance Between Alicia And Danny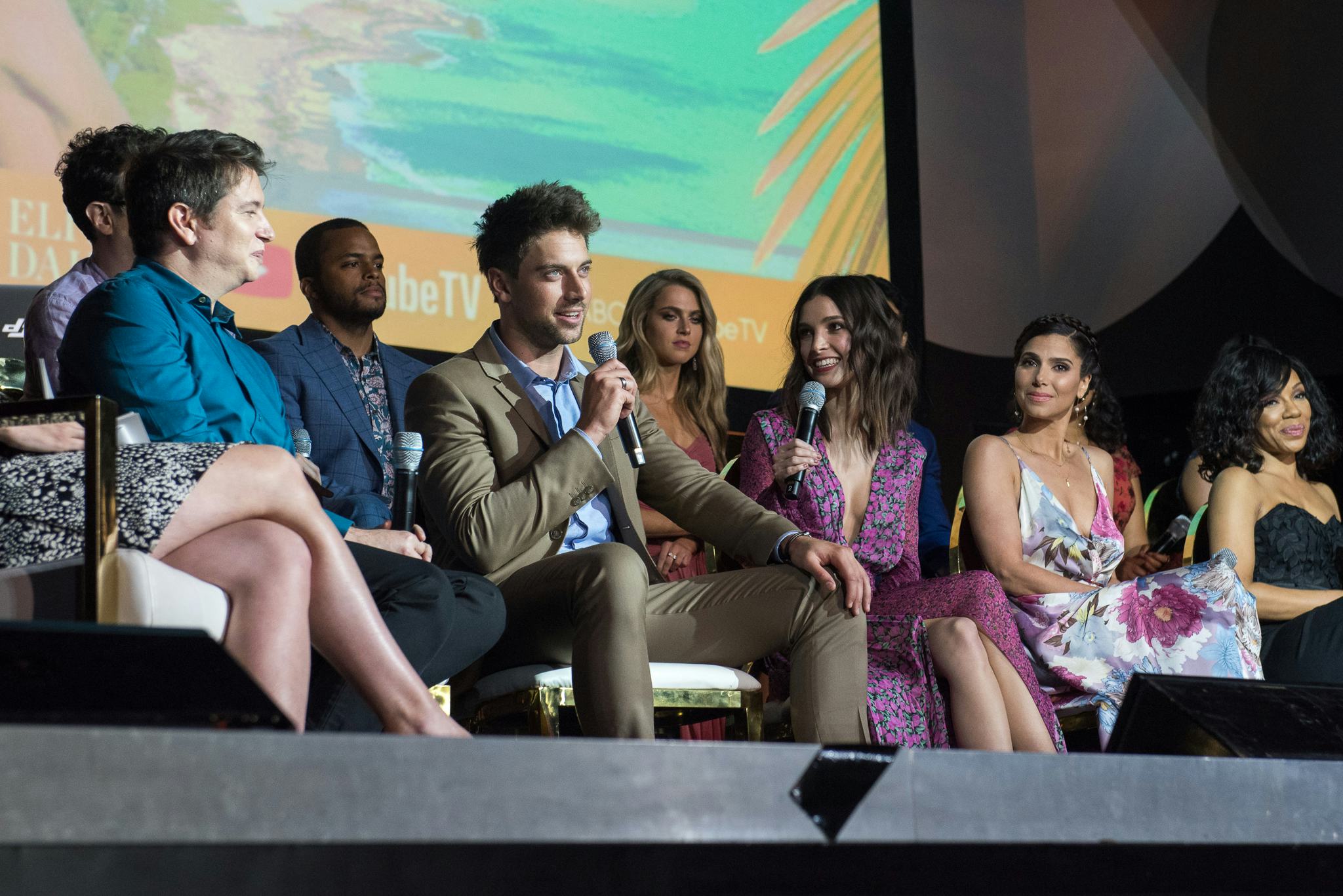 What's a summer drama without a steamy love story? The cast and creators promise that the romance between Alicia and Danny will deliver everything you want — in fact, they have actual, scientific-ish proof.
Tanen explained that the moment when new hotel employee Danny (Lincoln Younes) jumps into the pool with Alicia, played by Denyse Tontz, proved extremely popular with ABC's test audience. The test audience could turn dials on a machine to communicate what they liked. "When he takes off his shirt and jumps in," Tanen said, "every single person turned their dial, nearly broke their machines from how much they liked that moment. … The romance is certainly everybody's favorite part of the show and will continue to be throughout the series."
And it's not just Younes' abs that make the moment special (although they're definitely a crucial factor). It's the chemistry between Younes and Tontz, and the way their characters change throughout their relationship.
"They're from very different walks of life," said Younes. "She's obviously in the penthouse, and he's below the hotel, so that's already complicating things — it's a case of forbidden love."
Tontz added, "We see [Alicia] evolve from this by-the-book, cautious character to somebody who's capable of a lot more than people think she's capable of."
4. Gigi Mendoza Is A Complicated, Layered, Fierce Villain For The Ages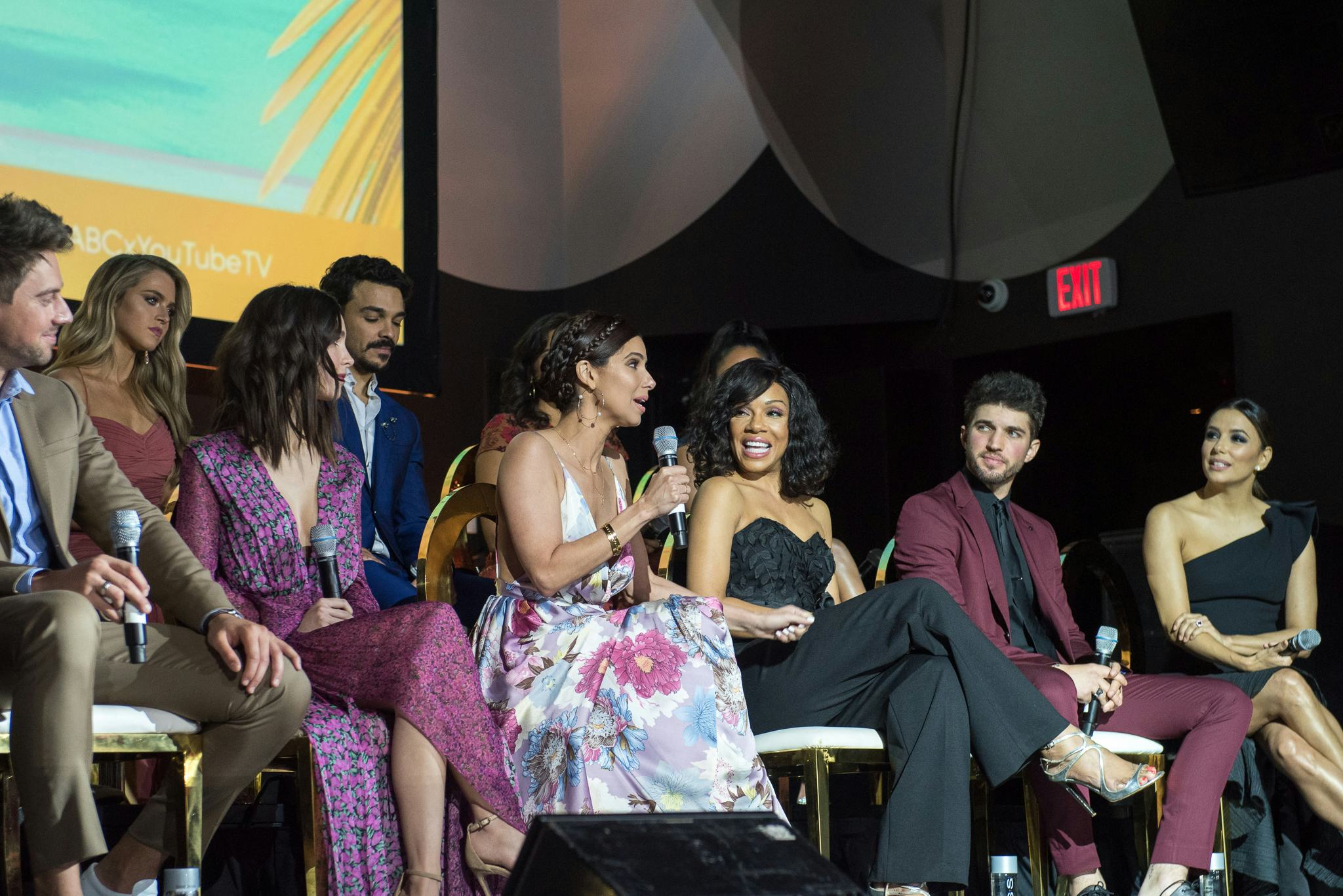 As arguably Grand Hotel's fiercest schemer, Gigi Mendoza serves up some of the show's most scandalous moments, including in the pilot episode, where she attempts to manipulate Alicia into believing she has her best interests at heart. However, she's not your standard evil stepmother — she's so much more interesting than that.
"Gigi is out of her mind!" Sanchez joked, before elaborating about her character's unpredictable arc. "Throughout the series — if you give it a chance, and I hope you do, because it gets better and better and juicier and juicier — a lot of things are going to be revealed and explained, and you're going to understand why she behaves the way she behaves."
We can't wait to see more of Gigi's devious plans!
5. Grand Hotel Is Pure Fun … But It's Also Breaking New Ground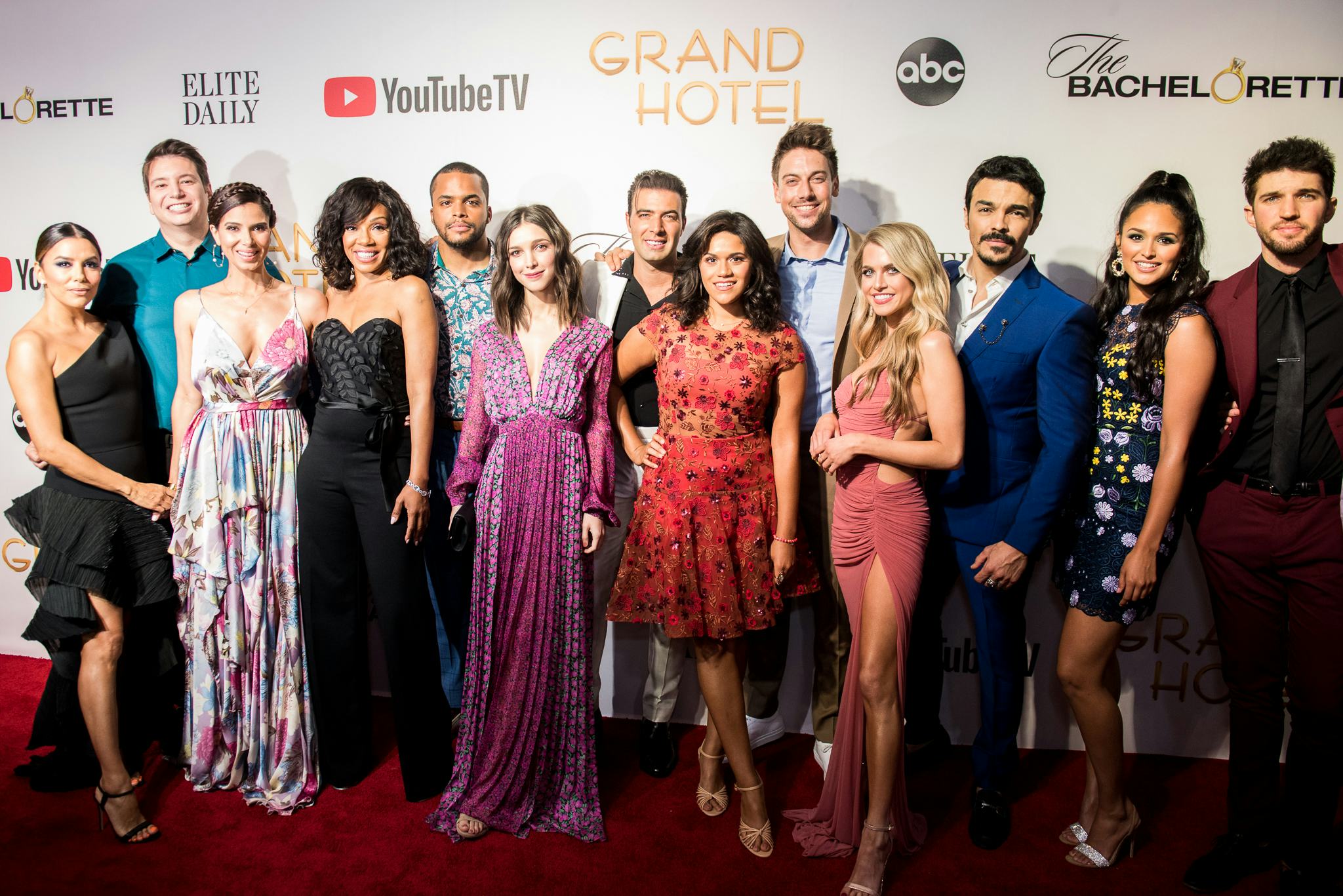 First and foremost, Grand Hotel is about escapism: gorgeous people, colorful Miami scenery, jaw-dropping plot twists. But it's also lowkey making an important statement about representation on primetime TV. "Nine out of 11 series regulars are either LatinX or African Americans," said Tanen. "We're doing an upstairs-downstairs story — typically you see that represented on TV and almost always it's the people of color in service industry positions, and that's not the case here, which is very true of Miami. The city is so diverse, and we want to show something that felt authentic and important."
Plus, there are unexpected, unique character portrayals we're not used to seeing in media. Javi Mendoza, the playboy who's constantly bedding hotel guests, happens to be an amputee. "Something really interesting that drew me to this character is that it's the first time they've sexualized a character with a disability like this," said Bryan Craig of playing Javi. "We go back in time to figure out how he actually lost his leg and how he's learning to deal with this new disability."
The diversity extends to behind the camera as well. "Our director of cinematography is a woman, our editors are women, our stunt coordinator is a woman, the majority of our directors were women, and Brian's writers room was 50 percent diverse or women," said Longoria to cheers from the audience. "People may think this is a 'Latino show.' It's a show about Latinos, but it's for everybody. That being said, Latinos need to show up. If I hear on one more panel, "'Why aren't there Latinos in the media?' This show's doing it! … You have to show up. You have to watch."
This article is sponsored by Grand Hotel, premiering Monday at 10|9c on ABC after The Bachelorette, or stream it live on ABC with YouTube TV.
Photos: Kat Goduco/ Elite Daily.
Source: Read Full Article