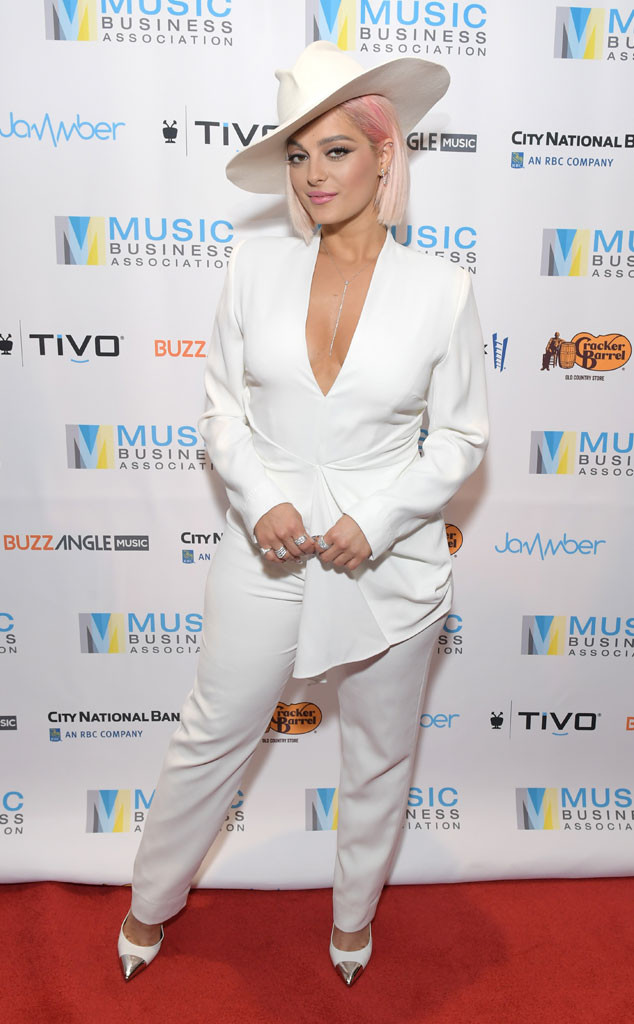 Jason Kempin/Getty Images
Bebe Rexha doesn't have time for body shamers.
The 29-year-old singer clapped back at a Twitter troll on Monday after the social media user made a comment about her appearance.
The comment came shortly after the "Meant to Be" artist tweeted a video of herself performing at Hangout Music Festival in Alabama. The footage showed the star rocking a black leotard and holding a T-shirt that read "My vagina. My choice." The performance came days after the signing of the state's new abortion law.
"Okay don't mean to disrespect but aint too thiccccck!??" the Twitter user wrote in response to the video. "I mean never saw her like that BEFORE!! from the song with other two country dudes!!"
The singer then wasted no time shutting the social media user down.
"I gained weight get over it," she replied.
This wasn't the first time Bebe has had to put somebody in their place. As fans will recall, she called out the fashion industry after several designers refused to dress her for the Grammys because of her size.
"Empower women to love their bodies instead of making girls and women feel less then by their size," she wrote on Instagram at the time. "We are beautiful any size! Small or large! Anddddd My size 8 ass is still going to the Grammys. #LOVEYOURBODY."
View this post on Instagram
My Vagina My Choice. Thank You Alabama. You got me emotional. Thank You @hangoutfest
A post shared by Bebe Rexha (@beberexha) on
She also opened up about the pressure and scrutiny she's faced in the industry during a recent interview with Health.
"Ever since I was little, I've been thicker. When I first got signed to one of my deals, my managers were like, 'Are you ready to get into boot-camp shape?' I was like, 'Sure! What does that mean?' They told me to lose 20 pounds, and it kind of messed me up," she told the magazine. "I went through a point of really not liking myself, and I still have my moments—but I just started trying to be nice to myself and doing things every day."
Today, she continues to encourage others to love the skin they're in.
"You come to a certain point where you're like, 'But if I'm going to hate myself, then why should anybody else love me if I don't love myself—like there's no point,'" she previously told E! News. "So, it comes to a certain point where you have to start doing things for yourself."
Source: Read Full Article