It is the latest whirlwind of damage in the never-ending hurricane that is the Duke and Duchess of Sussex versus the media.
Jeremy Clarkson, one of Britain's most influential media personalities, has written a bile-filled column arguably inciting violence against Meghan, Duchess of Sussex, published on Friday in British tabloid, The Sun.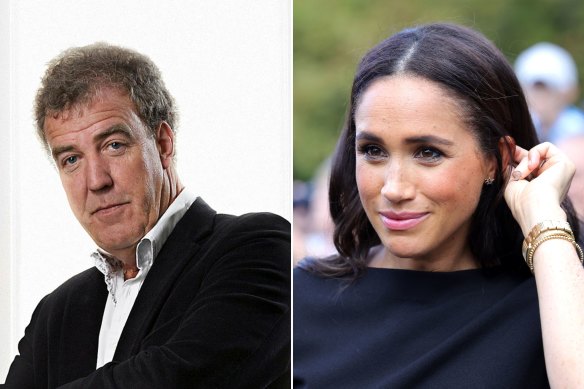 Credit:Getty Images
"I hate her," Clarkson wrote. But not, he clarified, in the way he hates English serial killer Rose West, who tortured, raped, and murdered at least 10 women over 20 years. "Meghan is… a different story. I hate her on a cellular level. At night, I'm unable to sleep as I lie there, grinding my teeth and dreaming of the day when she is made to parade naked through the streets of every town in Britain while the crowds chant, 'Shame!' and throw lumps of excrement at her."
So, this vindicates what Harry and Meghan have been saying for years?
Yes. The couple has long argued that Meghan's treatment by the global media has been particularly vile and racist. And the press coverage she has received has arguably become increasingly hateful ever since the pair's infamous 2021 interview with Oprah Winfrey, in which they accused unnamed members of the royal family of expressing concern over how dark the skin of their child Archie would be.
The damage to Meghan has been health-threatening?
So says Harry.
"Now, do we absolutely know that the miscarriage was caused by that?" he said about Meghan's miscarriage in 2020, in the sixth episode of Harry & Meghan, which first aired Thursday, the day before Clarkson's column was printed. "Of course we don't. But bearing in mind the stress that that [media coverage] caused, the lack of sleep and the timing of the pregnancy, how many weeks in she was, I can say from what I saw, that miscarriage was created by what they were trying to do to her."
But the couple's claims of particularly vicious treatment by the press haven't been believed?
Credit:Instagram / @em_clarkson
Not by the royal family, according to Meghan and Harry. The pair has long said their request for additional protection for Meghan, as a result of particularly racist media coverage – headlines like, "Harry's girl is (almost) straight outta Compton" – was denied by the royal family. Instead, they were simply advised, "don't say anything [to the press]" and to see the treatment as "almost like a rite of passage [for a royal spouse]." "Some of the members of the royal family were like, 'My wife had to go through that, so why should your girlfriend be treated any differently?'" Harry added.
But, Jeremy… who?
Many Australians may not be familiar with him, but he's one of Britain's most influential media personalities. As the long-time host of the car show Top Gear, he was once one of the highest-paid BBC stars, largely responsible for the show drawing 350 million global visitors.
And he's got form.
And then some. Clarkson was fired from Top Gear in 2015, after physically and verbally assaulting a producer on the show for not providing him with hot food after a long day of shooting. He's joked that truck drivers commonly murder sex workers, that former British prime minister Gordon Brown was a "one-eyed Scottish idiot" (Brown is blind in one eye), and he once used the N-word on Top Gear.
Is there some suggestion that the royal family had a hand in Clarkson's column?
It's merely speculation. Omid Scobie, co-author of Finding Freedom: Harry and Meghan and the Making of A Modern Royal Family, has claimed that Clarkson attended a Christmas party with Camilla, the Queen Consort, earlier this week, alongside conservative British broadcaster Piers Morgan. Harry himself seemed to foreshadow this possibility when he declared, in Harry & Meghan: "Everything that happened to us was always going to happen to us. If you speak truth to power, that's how they respond." He was referring to the "dirty game" of members of the royal family giving negative briefings to the press. He implicated his brother, Prince William, in this effort.
But Clarkson's column has sparked family problems of his own?
It sure has. Not only has his column drawn condemnation from people here and overseas, but his own daughter, Emily Clarkson, who hosts the Should I Delete That? podcast, has spoken out against him. "I want to make it very clear that I stand against everything my dad said about Meghan Markle and I remain standing in support of those who are targeted with online hatred," Emily, who has previously written about suffering from online abuse, posted in an Instagram story.
Can we learn something from this?
We can. "Sitting there while people [in your family] say incredibly hurtful things is not a good thing," says clinical psychologist Tamara Cavenett, who has had clients who've severed relationships with family members who have vastly different political and religious views from themselves. So, she says, if you want to maintain your relationship with a family member who has said hurtful things, either "draw boundaries" and agree to not speak about the topics that divide you, or state your opposing views "in a very graceful way". "If you really want to change someone's view, you're going to do that better if you are open and explorative [in conversation with them]," she says.
The Opinion newsletter is a weekly wrap of views that will challenge, champion and inform your own. Sign up here.
Most Viewed in Lifestyle
From our partners
Source: Read Full Article