You're seeing it more each day that actors are working together multiple times during their career.
Though it is likely that friendships will be formed during filming, Chris Hemsworth and Tessa Thompson's relationship goes deeper than their on-screen connection.
The two co-stars, who are currently promoting their new movie Men In Black: International, have developed a strong relationship over the three years they've worked together.
Not only are they great together on the big screen, but their real-life friendship is something that will last for many years to come.
Their friendship goes back to 2017
Chris Hemsworth and Tessa Thompson are working together again as they star in the brand new film Men In Black: International.
Though their on-screen chemistry is spot on in the film, Hemsworth and Thompson have developed quite the special bond even before filming began.
Back in 2017, the actors were cast in the Marvel film, Thor: Ragnarok and have worked together every year since.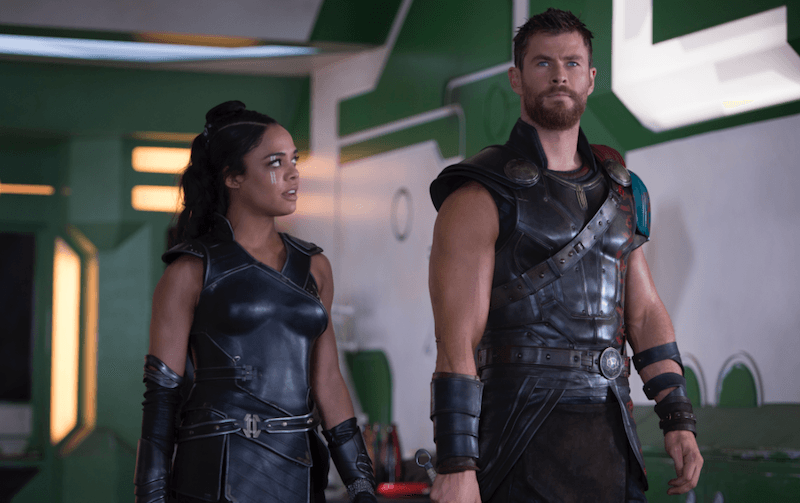 This will be the third movie the actors will be starring in together and Chris Hemsworth couldn't have been happier when he learned Tessa Thompson was going to be his co-star once again.
When asked if it was easy for him to agree to work with Thompson a third time, Hemsworth told Collider, "Absolutely. Yes. It was early conversations of 'Who's the girl? What are we doing?"
Chris even revealed that Tessa was his first pick to play Agent M in the Men In Black spinoff film. "She was at the top of the list and I said, 'Fantastic, we'll pick where we left off and letting both of us do something different than the dynamic in that film, the difference in chemistry."
Even when they started filming, Chris Hemsworth revealed that is was nice working with someone he already had great chemistry with.
"A lot of the time when you work with a costar you spend sometimes the first half of the shoot getting to know each other and so to not have to do that is always a huge relief." he shared.
Chris and Tessa think highly of each other
Being two of the most successful film actors to date, Chris Hemsworth and Tessa Thompson are always excited when they get to work together.
Acting together in films for the past three years, Chris and Tessa just can't seem to get enough of each other.
While sitting down with Entertainment Tonight, Hemsworth shared just what he thinks of his fellow co-star.
"I think you're the greatest actor of all time," Hemsworth told Thompson. "The kindest human being, with the biggest heart, and the most beautiful actress on the screen."
It was then Tessa Thompson's turn to share what she thinks of Hemsworth. "I like everything, pretty much, about Chris Hemsworth."
"He's incredibly gifted at comedy and actually, everything but I think I've learned so much just working in his company," she continued. "When he comes onto set, he knows everybody's name, he makes everybody happy just by being there and that's really something that is very rare."
Chris Hemsworth then shared that his time spent with Tessa on the set has "been great," and added that he hopes they be able to continue working on films together in the future. "Hopefully, she'll have me around again."
Source: Read Full Article