Teen Mom fans have questioned Farrah Abraham's parenting techniques since her daughter, Sophia, was born. Abraham is no longer on the show, but she doesn't appear to have changed much since leaving. And fans have started to worry about the things Abraham is exposing her daughter to — a recent post Sophia shared about her father has fans extremely concerned with Abraham's parenting.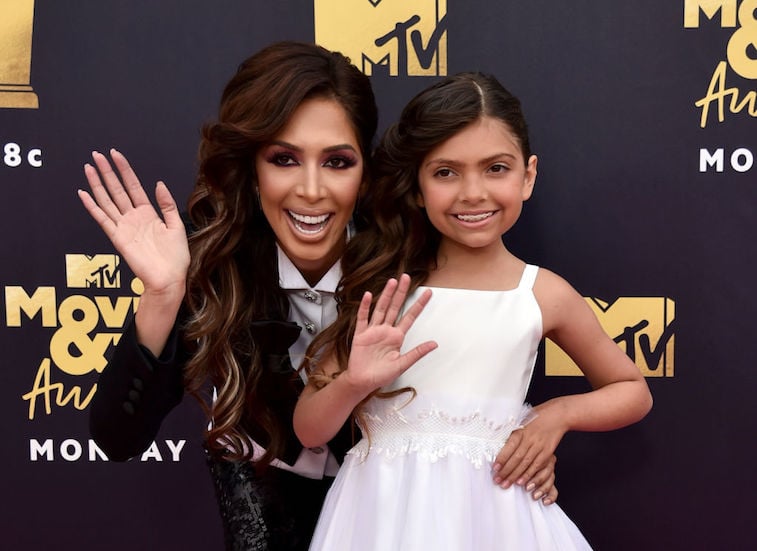 Sophia has her own Instagram account, which has already been criticized
Abraham's daughter is only 10 years old, yet she already has her own Instagram account. Fans who have been following the former Teen Mom star since her 16 and Pregnant days have voiced concerns over some of Abraham's parenting choices, and the Instagram is one of them. Some feel that Sophia is too young to have an Instagram account of her own, since social media bullying is extremely popular these days, and it could open Sophia up to a lot of criticism at such a young age. Abraham most likely monitors the account, but her daughter having a public profile won't stop people from saying rude or hurtful things to the 10-year-old.  
Sophia's father, Derek Underwood, died in a car accident before she was born
Back when Abraham's 16 and Pregnant episode first premiered, she briefly said that her boyfriend (Sophia's father), Derek Underwood, had recently died. However, she didn't give too much information about what had happened to him. We later learned that Underwood was killed in a car accident. For the most part, Abraham didn't mention him much on the show, but as Sophia got older and began to understand that she didn't have a father, Abraham became more willing to talk about "Daddy Derek" to her daughter. Now, Sophia is fully aware of everything that happened to her dad — but some fans think she knows too much.
Sophia's recent Instagram post showed an article detailing the alcohol involved in Underwood's car accident — and it sent fans reeling
Both Sophia and Abraham recently honored Sophia's late father in an Instagram post, but one of the photos had fans freaking out. One image contained a clipping from a newspaper article that showed the alcohol involved in Underwood's car accident. It was unclear if Underwood had consumed the alcohol, but the article appeared to say that someone had purchased the alcohol about an hour before the accident occurred, indicating that the two things were related. The local news also revealed that Underwood's family said he'd been drinking, but according to E! News, Underwood's blood alcohol level was under the legal limit at the time of the crash. Underwood was only 18 when he died.
Fans were concerned as to why Sophia knew that alcohol was involved in her father's death. "… [The alcohol] doesn't really seem like something child [sic] needs to keep being reminded of when in regards to her father's death," one user wrote. Another comment read, "Why is his alcohol consumption news clipping in your scrap book?"
It's possible that Abraham wants her daughter to understand the negative effects of alcohol, but most fans agree that Sophia is far too young to need to understand what exactly happened to her father. It seems like a conversation for someone in their teenage years, rather than someone who is 10. Fans have also gotten on Abraham's case in other ways, too, including the way she dresses her daughter and the way she allows her to behave. Sophia recently posted a Cinco de Mayo photo of her pretending to cheers martinis with friends, which fans said was inappropriate for someone her age. The knowledge of her father's underage alcohol consumption was something fans felt the little girl didn't need to know.
Check out TheCheat Sheet onFacebook!
Source: Read Full Article