Gwyneth Paltrow and husband Brad Falchuk are determined to keep their relationship fresh.
One way the couple is doing that is apparently by consciously not living together!
Despite the fact that the pair tied the knot last September, the Oscar winner/Goop founder revealed that they still don't live together full time. According to the U.K.'s Sunday Times, the American Horror Story co-creator sleeps at his own house when his children, Brody and Isabella, stay over, and then spends four nights at the actress' place.
Gwynny confirmed this in her interview with the publication, hinting that she and Falchuk may have found the secret to a successful marriage with their unconventional living situation.
Video: Gwyneth Completely Forgot She Was In 'Spider-Man: Homecoming'!
She told the Sunday Times, giggling:
"Oh, all my married friends say that the way we live sounds ideal and we shouldn't change a thing."
For the Avengers: Endgame star, the post-modern arrangement is perfect for the "polarity" her intimacy teacher, Michaela Boehm, has taught her to keep her relationship feeling new.
However, it appears the couple might be moving in together sooner than later. According to a Variety report last week, Gwyn's man listed his Los Angeles home for sale for $10 million.
Sounds like they're finally ready to take that next big step!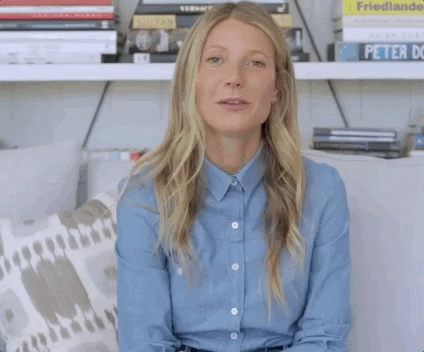 Meanwhile, the momma of two is still committed to co-parenting her kids with ex-husband Chris Martin, Apple and Moses, the best way they can. In a recent interview with Today's Savannah Guthrie, the 46-year-old explained:
"We really made the commitment to maintaining the family—even though we weren't going to be a couple… And so we sort of thought through that: How would that work and how would that be? Both Chris and I have made a commitment to continue to love the things about each other that we've always loved and to really continue to develop our friendship and to find ways to continue to communicate."
Still, making that commitment hasn't been an easy process for the exes — who split in March 2014 after ten years of marriage and finalized their divorce in July 2016.
Photos: Gwyneth Is Totes Friendly With Chris' Girlfriend Dakota Johnson!
Gwyneth continued:
"You really have to focus on forgiveness and, you know, spite that comes up—you have to let it go… It's definitely not effortless… But now, at this point five years later, it's pretty good. But the first couple of years, it was very effortful. And for the sake of the children, we were really committed to maintaining the family structure, even though it looks a little bit different."
Maybe that's another reason why she's taking her time to move in with Falchuk? Building a foundation for the new family arrangement is important, after all!
As for her current marriage, Gwyneth admitted that it's "been really fun," adding in her Today interview:
"I guess if you'd asked me a couple of years ago I probably would have leaned towards not getting married again, but then sometimes life just surprises you and it's been really fun. I'm so happy that I was sort of given this other opportunity."
Let's hope the fun continues when the couple stars to live together full time!
Source: Read Full Article