There's big news in Star Wars world, and while yes, the opening of literal Star Wars World is big news, there's something even more exciting to us over here: Harrison Ford's facial hair.
Look at that beard. LOOK AT THAT BEARD. Man. Harrison Ford is turning 77 (seventy-seven!) in just a little over a month, and he's still serving looks like he's Han Solo in his Empire Strikes Back heyday.
As mentioned earlier, Ford was on hand (along with fellow Star Wars icons George Lucas, Mark Hamill, Billy Dee Williams, and Disney CEO Bob Iger) at Disneyland in California for the opening of the much-awaited Star Wars: Galaxy Edge theme park, which honestly looks incredible. From blue milk to lightsaber duels, this place has it all—in the video below, you can even see Ford fire up the Millenium Falcon (along with a touching tribute to Peter Mayhew) to signal the park's official opening (clock in at about 28:45).
But again, even with how incredible Star Wars: Galaxy's Edge looks, our attention is fully diverted. Harrison Ford's beard! To be fair, the beard look isn't really a Han Solo thing, or even an Indiana Jones thing—more of a Dr. Richard Kimble, from 1993's The Fugitive thing, and, honestly? Maybe it's the sleek suit. But while he definitely pulled it off then, it rocks even better now.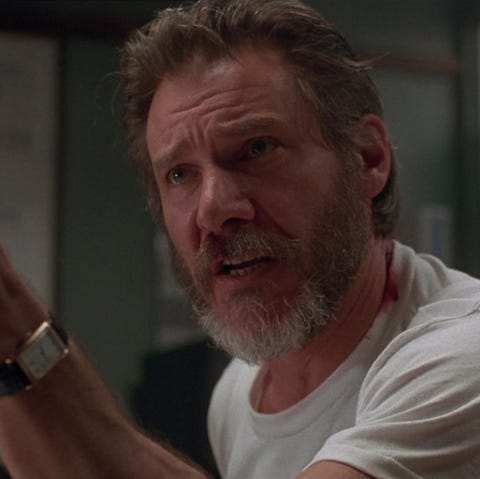 Warner Bros.
The most stunning part of this? The utter silence by the Star Wars and entertainment news community when it comes to the recognition and acknowledgement of Ford's spectacular fuzz.
Go inside Star Wars: #GalaxysEdge's grand opening with George Lucas, Harrison Ford and Mark Hamill (@HamillHimself) https://t.co/hYIlRLjQAK pic.twitter.com/aqcsNOZzJJ
THR covered the opening of Galaxy's Edge, included this photo, and just…didn't mention Ford's face? That's HAN SOLO! With a luscious beard! This is groundbreaking stuff, people.
Luke Skywalker and Han Solo stars open Star Wars: Galaxy's Edge at Disneyland https://t.co/fhuK1k4I4L
Ford only slipped by in the corner of this Entertainment Weekly post covering the event, but still—unacceptable.
Harrison Ford honored late Chewbacca actor Peter Mayhew at the Galaxy's Edge opening https://t.co/KsYHeShviH pic.twitter.com/knGKAt89HV
How this slipped by the folks at The AV Club, we may never know. Unbelievable. Unbelievable.
Having a blast @disneyland for the #GalaxysEdge dedication @hamillhimself #georgelucas #harrisonford… and the journey continues 😎 pic.twitter.com/ejtJGnCqQU
Billy Dee Williams—Lando himself, in the flesh—was standing right there! He saw Ford's beard in person. How does this omission go so far?
Greetings from Batuu! George Lucas, @HamillHimself, @realbdw, and Harrison Ford reunited last night as @RobertIger led the dedication ceremony of Star Wars: #GalaxysEdge at @Disneyland.
Beginning June 24, No Reservations Required. Subject to Capacity: https://t.co/ztM8IaqGrQ pic.twitter.com/rVayR7QAPJ
As his fellow bearded icon, The Dude, once said, "this aggression will not stand, man." Harrison Ford's beard deserves some credit, and we're gonna make sure he gets it.
Source: Read Full Article