Imagine if your ex wrote a book about all the dark secrets and embarrassing stories from your relationship and then published it to millions of fans. It probably wouldn't be a great experience. But that's what Khloe Kardashian has to deal with, now that her ex-husband Lamar Odom has published his tell-all book, Darkness to Light: A Memoir.
As if Khloe doesn't have enough drama to deal with lately. So how does Khloe and the rest of the Kardashian-Jenner family feel about the book? We have all the juicy details just for you.
What Does Lamar Odom's book say?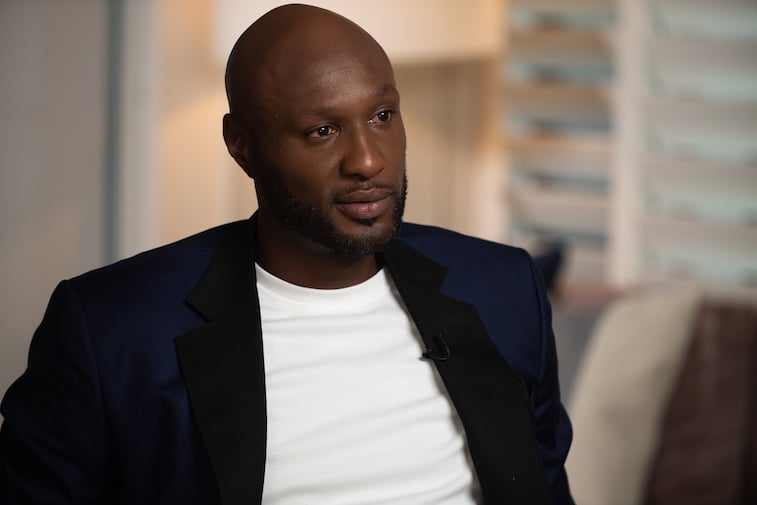 After Odom brags about having slept with over 2,000 women, and the sex orgy parties he's attended, he reveals several bombshells about his ex-wife, Khloe.
Odom says Khloe once beat up a stripper, when she and mom, Kris Jenner, walked in on his hotel room filled with drugs and naked strippers. According to Odom, Khloe pounced on one of the girls and "dropped vicious blows all over the top of this girl's head."
Can you really blame Khloe though? What would you do if you walked in on your husband in a similar scene?
He also claims that Khloe said she wouldn't use his personal struggles for drama on Keeping Up With the Kardashians, but that she went back on her promise, and did feature his overdose and the family's support of him during this time.
Odom says that while he was in the hospital, in a coma from his overdose, that his family had to deal with extra stress from arguments caused by the Kardashian family.
The fights were supposedly over non-disclosure agreements, which the Kardashians asked Odom's family to sign, and which they refused.
In fact, the Kardashian's habit of turning everything into a publicity stunt, seems to be a major theme in Odom's book. He claims the family matriarch, Jenner, uses everything and everyone around her for ratings. Like the time he claims Jenner set him up to look like a stalker.
He says Jenner told him that Khloe wanted to talk about their relationship, and that she wanted to meet outside her gym. When he showed up, there were cameras everywhere, and Khloe had no idea why he was there.
Lamar Odom still loves Khloe and the Kardashian family
Mixed in with all the awful things Odom says about the Kardashians, is an attitude of love and reverence towards them. He claims the Kardashians welcomed him into the family with open arms, and that they are all genuinely loving and supportive of one another.
He also says that Khloe is the love of his life, and he regrets the way he treated her. In fact, it seems that Odom would be happy to mend the relationship with Khloe, and even wants to get back together.
Although he blames Jenner for ruining his chances of that ever happening, which just goes to show you how little responsibility he's taken for his actions.
How does Khloe feel about Lamar Odom's book?
Khloe hasn't spoken publicly about the book yet, but a source close to her did speak with Hollywood Life recently. They said Khloe doesn't appreciate Odom telling all the dirty details of their life to the public, and she feels hurt and used by his book.
"Lamar has been telling people that losing Khloe is the biggest regret of his life, but if he really cared so much and loved her as much as he says, then he would not have written his book. It's so sensationalized and clearly he's using Khloe's name to try to get attention."
The source continued, "Khloe is trying to move forward day by day but her past always seems to creep up and interfere in those plans."
Another source close to Khloe told Radar Online that, "[Khloe] is extremely worried about [the book's] release and what it will do to her image." They also stated that "She really cannot believe that Lamar would stoop this low and that he would go and bash her after everything she did for him."
She has a point. Khloe and her family rushed to his side when he was in the hospital, even though they were already separated during that time. Khloe already knew about all the women he's cheated on her with, and she was still there for him when he needed her.
And then he goes and writes a book that clearly embarresses her when she's still working through her very public betrayal by Tristan Thompson.
How do the rest of the Kardashians feel about Lamar Odom's book?
Before the book's release on May 28, a source told US Weekly that the Kardashians weren't worried about the book. They had not read the book at the time, and were not intending to. However, it appears that since the books release, their thoughts may have changed.
The Kardashian family is very close-knit and supportive of each other, even Odom admits that. If Khloe is upset by the book, it can be assumed that her sisters and mother would also be upset.
They're probably standing by Khloe during this difficult time and giving her the support she needs.
Odom's book is currently number one in basketball biographies on Amazon and number 36 in all book sales. Even though Khloe and the Kardashians may be worried about the book, we don't think it reflects that badly on her. She may not have always made the best decisions, but Khloe was dealing with an immensely stressful situation during her marriage to Odom.
Most people are not going to act their best during a time like that. Who can really blame her? The only thing this book proves is that it's time for Khloe to finally find the happiness that she deserves.
Source: Read Full Article