So you don't like sangria, huh?
Totally understandable. But what you really mean is that you don't like bad sangria and bad sangria is everywhere so you probably only know bad sangria as sangria.
The reason why so much bad sangria exists as that people think that by throwing a bunch of cut-up fruit into wine that they're making sangria. That's not sangria. That's some some of weird mutation of jungle juice, which no one asked for ever.
Great sangria, much like a great cocktail, requires a careful balance of booze and flavor in order to taste refreshing while also not cloyingly sweet.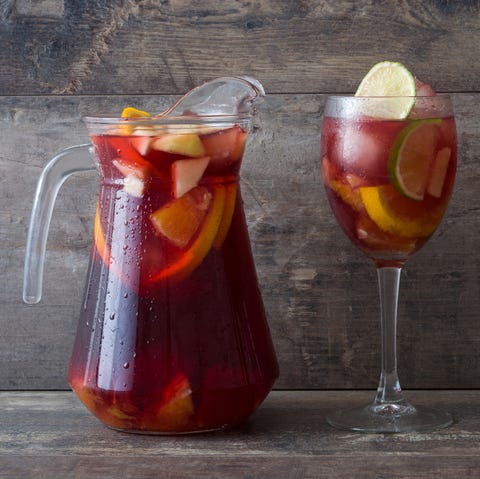 Getty Images
We asked some of ur favorite bartenders to reinvent the season's fruitiest, freshest, most flavorful cocktail.
You might be surprised by just how much you like what they came up with.
(If you like gin martinis, try…)
Sage and Pepper Sangria
What You'll Need:
Peels from 2 whole grapefruits (white pith removed)
1 large cucumber sliced, plus more for garnish
Handful fresh sage leaves, plus more for garnish
1 Tbsp whole black peppercorns
2 bottles white wine
6 oz dry vermouth
Sparkling water
How to Make It:
In a large pitcher, add the grapefruit peels, cuke, sage, peppercorns, wine, and vermouth. Stir. To serve, add a few ice cubes to a Collins glass and pour in the sangria until three-quarters filled. Top with sparkling water. Garnish with a cucumber slice and sage. Serves 10 to 12
—Luke Andrews, Chicago-based mixologist and Cocktail Artist ambassador
(If you like daiquiris, try…)
Space Wizard Sangria
What You'll Need:
1 cup pureed raspberries
1 1/3 cups frozen strawberries
1/2 orange, sliced
1 apple, diced
2 liters boxed dry red wine
8 oz VSOP Brandy, such as St. Remy
32 oz blueberry juice, such as Ocean Spray
6 oz fresh lemon juice
Kiwi and apple slices, for garnish
How to Make It:
In a large container, stir together all the ingredients except the garnish. Refrigerate for 24 hours. Strain and transfer to a serving pitcher. To serve, pour into a goblet and garnish with fresh kiwi and apple slices. Serves 10 to 12
—Challo Schott, mixologist and owner, the O.G., Delray Beach, Florida
(If you like margaritas, try…)
Grapefruit and Apricot Sangria
What You'll Need:
2 bottles dry rosé wine
1 (750 ml) bottle Lillet Rosé Apertif
12 oz Luxardo Apricot Liqueur
16 oz fresh grapefruit juice
Juice of 2 lemons
Handful fresh apricots, pitted and chopped
Grapefruit wheels and thyme sprigs, for garnish
How to Make It:
In a large pitcher, stir together all the ingredients except the garnish. Refrigerate for at least 1 hour. When ready to serve, fill the pitcher with ice. Pour the sangria into stemless glasses and garnish with a grapefruit wheel and a thyme sprig. Serves 4 to 6
—Summer-Jane Bell , co-owner, Hello Stranger Bar, Oakland, California
Source: Read Full Article