The actress said she had "people amongst our own team" express concern about her appearance, after an injury during production prevented her from working out.
Kate Winslet was going to stop at nothing to get her new World War II-era biopic, Lee, onto the big screen — even if that meant working through a dangerous back injury.
Winslet, who stars as Elizabeth "Lee" Miller, a fashion model who became an acclaimed war correspondent for Vogue magazine during World War II, opened up to the outlet about the lengths she went to to bring the film to fruition.
On the first day of filming, Winslet slipped and injured her back while rehearsing a scene where Miller is running down the street in the French city of Saint-Malo, dodging bombs and wartime fire.
"I had three massive hematomas on my spine, huge," Winslet told Vogue in October's cover issue. "I could barely stand up."
Waiting for your permission to load the Instagram Media.
Instagram Media Unavailable
Determined there would be no delays, Winslet pushed on with the shooting schedule despite the pain, getting up before 4 a.m., doing hair and makeup at 5, and stepping on set before 7.
She applied the same work ethic getting the film to distributors, "The process of getting it off the ground was the most phenomenal fight," she added. "I truly drove it up a mountain."
Fighting is not something Winslet is unfamiliar with. Her efforts to make Lee are akin to the battle she's faced throughout her career when it comes to the scrutiny surrounding her body image.
"I was consistently told I was the wrong shape," the Oscar-winning actress said. "I was consistently told I would have to settle for less."
Re-creating a famous photograph Miller took of a group of friends picnicking topless in France before the war for the film, Winslet, 47, bared it all, despite the fact that with her back injury, she had been unable to exercise.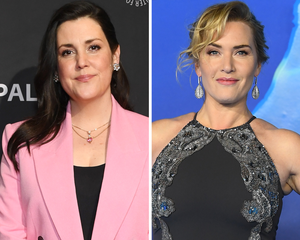 Melanie Lynskey Says Losing Touch With Kate Winslet 'Heartbreaking' After Titanic Actress Achieved Superstardom
"That the Peloton ride and 10 minutes of f—ing abs" stopped, she said.
"You know I had to be really f—ing brave about letting my body be its softest version of itself and not hiding from that," Winslet told the outlet before touching on another scene that sees her wear a bikini top. "And believe me, people amongst our own team would say, 'You might just want to sit up a bit.' And I'd go, Why? [Because of] the bit of flesh you can see? No, that's the way it's going to be!'"
Winslet has learned to tune out the noise over the years — whether it over her body or her body of work — telling the outlet she hasn't read a review since she was 21.
"I think it probably stems from having been subjected to the most awful scrutiny and judgment, and, actually, I would go so far as to say bullying, from mainstream media when I was in my 20s," she shared.
With this film and the ups and downs of her injury, Winslet found herself learning to let go, admittedly telling that outlet that rejoiced in the fact she was unable to exercise while injured.
"In a way it was weirdly good for me, to go f–k it: I've got to go easy on myself," Winslet said.
Lee hits theaters December 6, 2023.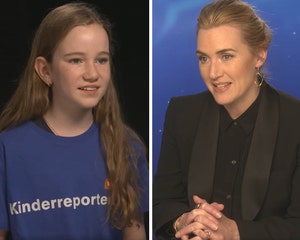 Kate Winslet Sweetly Stops Interview to Comfort Young Reporter During First Interview
Source: Read Full Article